Top 5 Tips for a Productive Kitchen in 2018
Inspiration | 9th February 2018
Sometimes, what a kitchen requires is a hard hat and a pair of work boots.
That was chef Tom Flavin's attire when he first arrived at the Limerick Strand Hotel shortly before it opened in 2007. Job number one for the new executive chef? To oversee the building of his kitchen. 10 years on, and that kitchen is where you will find Tom – and his 24 full time chefs – tending to the catering needs of the hotel, from breakfasts to banquets and everything in between. His time at the helm in the Strand, plus a career's worth of experience in top notch hotels, from the Dorchester in London to Raffles in Singapore, have taught Tom a thing or two about running a kitchen.
Tip 1: Take time to review and learn
Nothing stands still in a professional kitchen. Neither from day to busy day, nor from year to year. There is, Tom says, always something new to learn and taking time to do a debrief each January of what worked, what was a challenge, how tastes are changing and what might be done differently in the coming year is a key activity for Tom and his team.
Tip 2: Plan your menus
Menus should be planned such that they work well together, considering the supplies, staff and equipment needed to execute them. For Tom, this needs to be done well in advance across all aspects of the hotel – whether restaurant, café or large functions: "we only have 15 ovens, so we don't want 15 different menus on a given night." He also emphasises the importance of talking to suppliers, understanding what they can (or can't) deliver, as well as lead times – a small local producer might need a couple of months' notice, depending on the order.
Tip 3: Staff – find them, train them, and value them
"Plan your staffing levels and know where the gaps are – that's essential" says Tom. Many of Tom's staff have been with him for 8-9 years – and it's important to keep things challenging and interesting for them – but inevitably, some chefs will leave to pursue other opportunities. Recruiting new kitchen staff is hard, so bringing people on and ensuring that they are trained up is also important, as well as valuing the experience that people bring from other kitchens. "Everyone," Tom says, "has something that they can show you."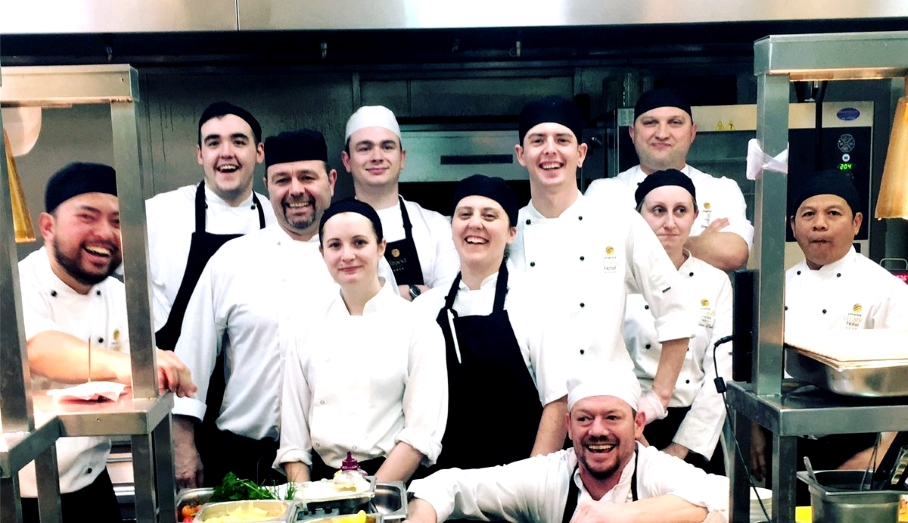 Tip 4: Maintain your equipment
With some 300 pieces of equipment in the kitchen, there is, Tom says, "always something broken." You should tend to any maintenance issues a month before heading into the busy season – it could be that the rubber seal you find needs replacing might have to come from Italy.
Tip 5: Communication, communication, communication
Open communications across the board – with suppliers, guests, managers, chefs – is crucial. When you have a good team who are well trained and well briefed, they can handle whatever comes their way, such as the incident Tom describes at the Dorchester when a trolley collapsed, taking 100 plates of food with it. Everyone had to jump on board, plate 100 more, and all of the diners got served.