Keith Symes from Wicklow Rapeseed Oil
Food | 13th April 2017
Award winning food writer and the owner of Irish food blog Bibliocook, Caroline Hennessy chats with Keith Symes of Wicklow Rapeseed Oil about growing his business from the ground up.
Innovation is a watchword for Wicklow native Keith Symes. Innovation led him to start producing extra virgin, cold-pressed Wicklow Rapeseed Oil on his family farm and to later develop chilli, garlic, and lemon-infused variations. It's innovation that drove him to set up sister brand Sussed, to focus on producing natural products like his ground-breaking Healthy Heart Plus Oil and a 2 Cal Rapeseed Oil spray.
Innovation, never standing still and always thinking outside the box is Keith's mantra for success.
Although farming his whole life, Keith, who studied agricultural engineering in Tralee IT, has also worked abroad as a mechanical engineer. He brought that engineering problem-solving mindset back to the farm with him, when he decided to focus on tillage. "The rich fertile soil," Keith tells me, "and favourable climate in this area lends itself well to a high quality harvest." But Keith knew that the future lay in diversification and adding value to what he was able to grow. "My passion for farming, along with my ambition to start a business linked with food and farming, led me to the idea of producing extra virgin cold-pressed rapeseed oil." Wicklow Rapeseed Oil was launched in November 2013 and now, along with the oilseed rape that he grows himself, Keith also partners with local farmers to grow a specific variety of seed that produces a light, nutty oil.
Before he ever put a drop of that oil into a bottle, he spent two years on research and development, "growing and harvesting various different seed types in order to find a seed variety that thrives in our soil conditions and produce a flavoursome rapeseed oil." The word terroir – a sense of place – is most associated with wine but can also be applied to other agricultural products like olive oil, cheese and beer. I was intrigued at the idea that it could also be part of the flavour of Keith's oils, that these Wicklow Rapeseed Oils would specifically taste of Wicklow. Keith is clear on this subject: "extra virgin oils have different flavours, just like wines from different regions – it comes down to the variety of seeds you use, the soil type and the weather."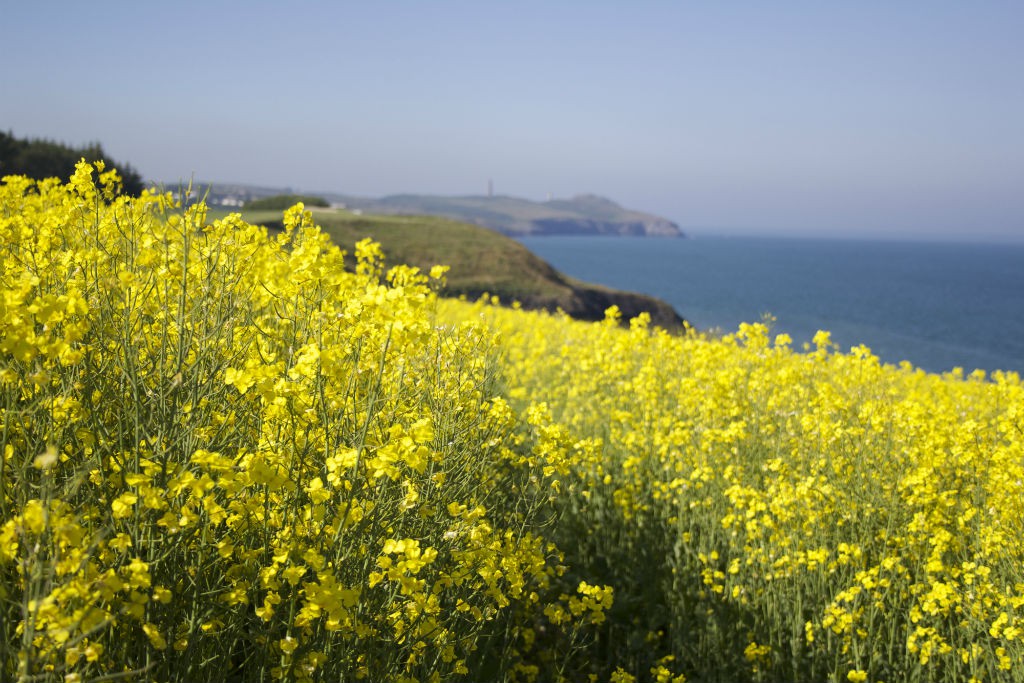 With the lowest amount of saturated fat of any cooking oil, coming in at 7% as opposed to olive oil's 14%, rapeseed oil is also high in omega-3, 6 and 9 fatty acids, which have been linked to protection against heart disease. As an added benefit, the oil's higher smoke point means that these important fatty acids don't turn toxic at high temperatures. An oil with a high smoke point gives the chef more cooking options because it's possible to turn up the heat without risking high toxins or combustion.
But not all rapeseed oils are equal. Investment in a production facility on the farm has enabled Keith to have full control over the process on site, freshly cleaning and cold pressing the seed without the use of chemicals, solvents or heat – therefore retaining all the goodness within the oil. It's all in the colour, apparently. "The next time you're shopping," Keith tells me, "look at the colour of the oils. If the oil is dark in colour this means the oil is of extra virgin, cold pressed quality; if the oil is light in colour this mean the oil has been refined. Refined oil contains little or no omega-3, 6, 9."
Innovating, developing and growing new ideas. That's Keith Symes. That's Wicklow Rapeseed Oils.
Wicklow Rapeseed Oils are part of the FoodService Academy, a programme run by Musgrave MarketPlace and Bord Bia to help small Irish food and drink companies to grow their sales and to develop their business in the Irish foodservice market. Companies also have the opportunity to supply their products to Musgrave MarketPlace's 6,000 foodservice customers, including hotels, restaurants, pubs and nursing homes. Wicklow Rapeseed Oils are available in all Musgrave MarketPlace branches and through the online store.