DayToday
Day-Today is a retail solution designed by Musgrave that allows convenience stores to compete more effectively and profitably in their market, while still maintaining their independence. Key benefits of being part of the DayToday group include a vibrant brand image, competitive pricing, loyalty rebates and no joining fees or membership or weekly fees. Other important advantages include:
Retail Expertise
Musgrave supports the DayToday fascia through a team of Business Development Managers. We offer complete assistance with store planning, category management, and range & display solutions to develop your whole business to increase footfall and maximise sales & profit. Our dedicated local trading & marketing teams ensure the best product & pricing are available along with a complete promotional support package.
Promotions
DayToday stores benefit from an extensive range of offers which will include £1 zone, great offers, margin deals, up-weighted seasonal offers, key category call outs, first to market and value range. Promotions are supported with free point of sale material which includes full colour leaflets, A3 and A4 posters and shelf cards.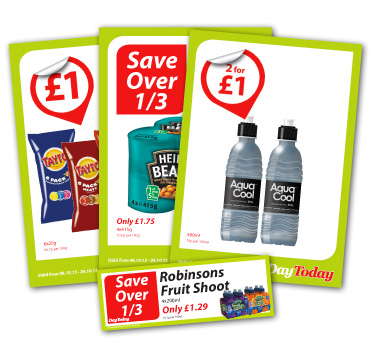 Central billing
We offer a comprehensive central billing service which includes over 50 key suppliers. Retailers can benefit from a comprehensive range, competitive pricing, on-going promotions, merchandising assistance, consolidated invoice, as well as attractive rebates.
For franchise inquiries
Contact: Keith Crimmins, Business Development Manager
Email: keith.crimmins@musgrave.ie
Mobile: +44 7956230481