Quality Meat, Quality Support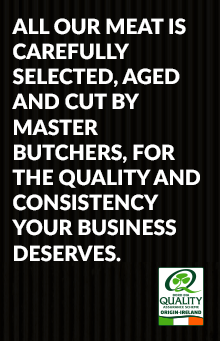 We are very proud of our beef and lamb, and rightly so. Our mild climate and clean environment provide the perfect conditions for raising world class animals.With that being said, there is a great many things that can happen between field, farm and fork.
At Musgrave MarketPlace we go to great lengths to ensure that the meat we deliver to your kitchen is of the highest quality, 100% Irish and fully traceable.
In partnership with Kepak and Liffey Meats we have created two brands – Butchers Select and Simply Meat – whose quality, provenance and standard of processing are guaranteed. These exclusive brands cover all meal occasions and bring you the assurance of consistent quality and a dependable service.

A Focus On Quality From Farm To Fork
At Musgrave MarketPlace we strive for excellence in everything we do, whether that is the range and quality of the products we provide, the value we offer or the standard of our service.
When we set out to create our Butchers Select and Simply Meat ranges we were determined to provide products that are excellent quality, 100% Irish and fully dependable.
Working closely with our partners at Kepak and Liffey Meats we detailed the quality criteria for our products, setting standards so stringent they require their own, dedicated area in the production facility.
In addition to HACCP procedures we apply QHACCP, a stringent system which minimises all potential risks to quality. Furthermore, our in-house Quality Assurance team undertake monthly verification tests with Kepak and Liffey Meats to ensure that all the agreed QHACCP systems are working as they should.
This focus on excellence is also reflected in our sales team. They are fully trained and can use their experience to help you select the right products for your menu – to guarantee satisfied customers but also maximise your profit.
Wherever you are located, our state-of-the-art logistics and nationwide delivery service ensures you get what you ordered, when you expect it, every time.  We also know you need a flexible service and we won't let you down on emergencies, like a last minute funeral or communion.
The highest quality products, absolute dependability of supply and the most competitive price point on the market – that's the Musgrave MarketPlace recipe for success.